May 14, 2019
Kyushu Electric Power Co., Inc.
Indirect Shares Acquisition of EGCO in Thailand -Contributing the electricity business together with the high-growth companies in Asia-
By acquiring indirect interest*1 in the Electricity Generating Public Company Limited*2 ("EGCO"), Kyushu Electric Power Co., Inc. participates in the management of EGCO, which is one of the largest Independent Power Producers in Thailand.
*1 By purchasing 25% from Mitsubishi Corporation ("MC") of the shares of TEPDIA Generating B.V. ("TEPDIA") which owns about 24% of the shares of EGCO, we acquired indirectly about 6% of the shares of EGCO on May 10th 2019.
*2 EGCO was established in 1992 by the Electricity Generating Authority of Thailand ("EGAT") and listed on the Stock Exchange of Thailand in 1995. MC and the Tokyo Electric Power Co., Inc. (currently, succeeded to JERA Co., Inc. ("JERA")) have also participated in the management of EGCO, from 2006 and 2011, respectively.
EGCO has 27 operating power plants (total equity ownership: 5,154MW) in 6 countries, including Thailand, and has become one of the high-growth companies in Asia. EGCO contributes to realize a sustainable society, by focusing on the development of the renewable energy such as hydro, solar, wind and geothermal etc., in addition to large-scale thermal power. We, together with MC and JERA, aim to contribute to the further growth of EGCO as well to the development of the electricity business in Asia, by utilizing our technical expertise and know-how acquired in Japan and overseas.
With this participation, our equity ownership in overseas electricity generation project is approximately 2,300MW, which approaches our target in our mid-term management policy to expand equity ownership of 5,000MW by 2030. We will expand our overseas electricity business by developing projects, mainly in Asia where electric demand is expected to increase.
Acquisition Scheme to EGCO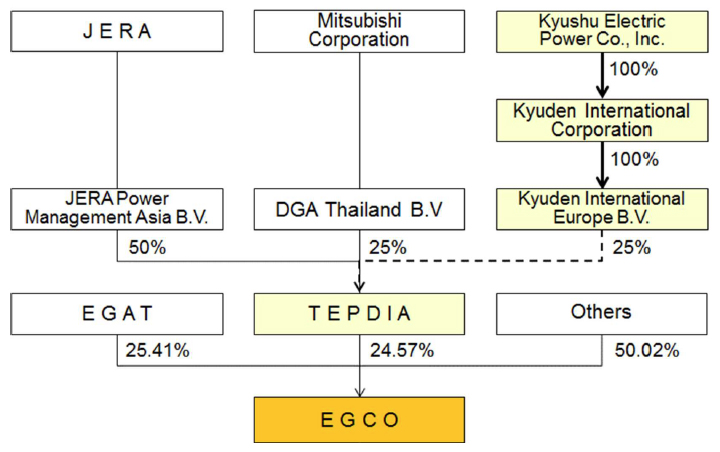 Overview of EGCO
Company Name
Electricity Generating Public Company Limited
Headquarter
Bangkok, Thailand
History
In 1992, established by partial privatization of EGAT
In 1995, listed on the Stock Exchange of Thailand
Main Shareholders
EGAT:25.41%
TEPDIA:24.57% (including 0.63% for non-voting depository receipt)
President
Mr. Jakgrich Pibulpairoj
The No. of Employees
Approximately 780
Financial Status
(2018, in Billion Yen*)

Total Asset:722.5
Net Asset:353.0
Total Liability:369.5

Revenue:203.8
Net Profit:73.8

Operating Power Plants
Total 5,154 MW (Total Equity Ownership)

- In Thailand:3,138MW (61%)
- Outside Thailand:2,016MW (39%)
*Exchange Rate: 3.5 JPY/THB
Map of EGCO's Power Generation Projects (as of April 30, 2019)