June 7, 2019
Kyushu Electric Power Co., Inc.
Birdsboro Gas-Fired Power Plant in Operation -Kyuden's First U.S. Power Generation Project Commercially Starts-
 On May 30,2019, Birdsboro Gas-Fired Power Project, we Kyuden's first project participation in the United States, starts commercial operation of its units (488MW).
 The Birdsboro power plant, located in Birdsboro, Pennsylvania, USA, utilizes a combined-cycle generating system equipped with the state-of-art gas steam turbines.
 The highly efficient facilities will fulfill consistent performance as a reliable energy supplier to the northeastern United States within the PJM※1 (Pressed on December 15th ,2017)
 Our target in our mid-term management policy is to expand equity ownership of 5,000MW by 2030. We will continue our expansion mainly in Asia for their growing demand, then in North America and Europe for our proactive pursuit in this sector.
 ※1 PJM (PJM Interconnection LLC) —The largest wholesale electricity market in North America.
Site Photo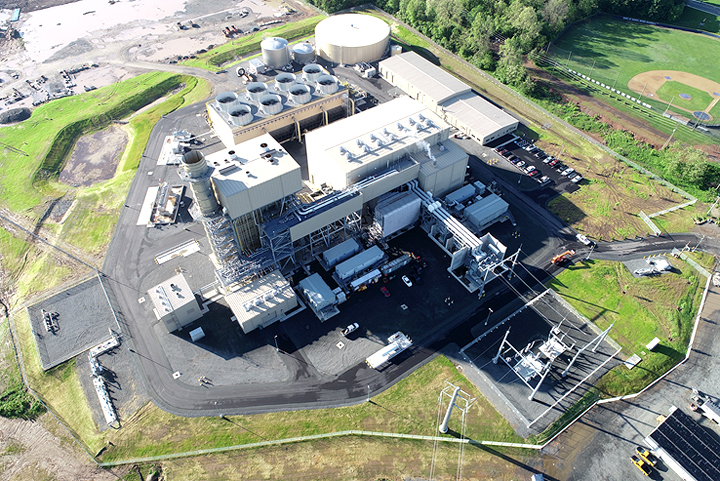 Overview
Item
Content
Location
Birdsboro area, Berks County, Pennsylvania, United States
(Approx. 200km from New York)
Capacity
488MW (1 gas turbine, 1 steam turbine)
Generation Type
Natural Gas/Combined Cycle
Key Equipment
Gas turbine manufactured by GE (Model: 7HA.02, Single Shaft)
Fuel
Natural Gas(from the Utica and Marcellus shales)
Service Area
PJM(The largest wholesale electricity market in North America)
Investment
Partners

| | |
| --- | --- |
| Kyushu Electric Power Co., Inc. | 11.1% |
| Sojitz Corporation※1 | 22.2% |
| Tokyo Gas America Ltd. | 33.3% |
| Ares EIF Management※2 | 33.3% |
※1 Kyushu joined the Project by acquiring a 11.1% share from Sojitz Group in 2017
※2 Private funds, managed by a subsidiary of Ares Management Corporation, that invest in the power and infrastructure space.
Location of the power station