March 2, 2021
Company Name: Kyushu Electric Power Company Inc.
Name of Representative: Kazuhiro Ikebe
President & Chief Executive Officer
(Code: 9508, First Section, Tokyo SE, Fukuoka SE)
Contact: Investor Relations Group, Corporate Strategy Division
(Phone: +81-92-726-1575)
Revision of Financial Results Forecast for FY2020
 We hereby announce that we have revised our financial results forecast for FY2020 (withdrawn on January 29, 2021).
 As for the year-end dividends for the FY2020, there is no change to the previous forecast (¥17.5 per common share, annual: ¥35 per common share).
1 Revision of financial results forecast
Revision of consolidated financial results forecast for FY2020 (April 1, 2020– March 31, 2021)
Sales
Operating income
Ordinary income
Profit attributable
to owners of
parent
EPS
(Unit: billion yen)
(Unit: billion yen)
(Unit: billion yen)
(Unit: billion yen)
(Unit: yen)
Forecast
previously
announced
(A)
-
-
-
-
-
Revised forecast
(B)
2,130.000
60.000
35.000
22.000
42.07
Difference
(B-A)
-
-
-
-
-
Ratio
(%)
-
-
-
-
-
(Reference)
Results for FY2019
2,013.050
63.813
40.052
-0.419
-6.05
2 Reasons for revision
 In early January extreme cold weather caused the supply-demand balance to become tight, leading power prices to soar on Japan's wholesale market. This situation impacted the performance of the power generation and retail sales business and due to the uncertainty of its duration, it was difficult to make a sufficiently reliable forecast of the consolidated earnings for FY2020, and subsequently the earnings forecast was withdrawn.
 We hereby announce the revised earnings forecast based on recent supply-demand trends etc.
Revised
Previously announced
Difference
Retail electricity sales volume
75.3 billion kWh*
-
-
Wholesale electricity sales volume
10.0 billion kWh
-
-
Total electricity Sales Volume
85.3 billion kWh
-
-
Crude Oil CIF Price
42 $/b
-
-
Exchange Rate
106 ¥/$
-
-
Nuclear Power [Transmission-end]
(Capacity factor of nuclear power plants)
21.6 billion kWh

-
-
(62.1%)
-
-
Note: Electricity sales volume represents our company and consolidated subsidiaries (Kyushu Electric Power Transmission and Distribution Company Inc. and Kyuden Mirai Energy Company Inc.) (internal transactions have been eliminated).
* Impact of the corona virus -2.0 billion kWh (no change to the previous estimate)
Note: The forward-looking statements are based on information available as of the date hereof. Actual results could differ due to numerous factors.
(Reference)
 Financial Results Forecast for FY2020* (compared with the figures announced in October)
*April 1, 2020– March 31, 2021
 Ordinary income is expected to be about 35 billion yen, which is about 10 billion yen lower than the earnings forecast announced in October 2020 (withdrawn in January 2021). This change is a result of increased power purchase costs caused by sudden surges in prices on the wholesale market amid the tight supply-demand balance last winter. By cost reductions we are working to offset this loss and to strengthen our balance sheet.
[Main Factors Affecting Ordinary Income]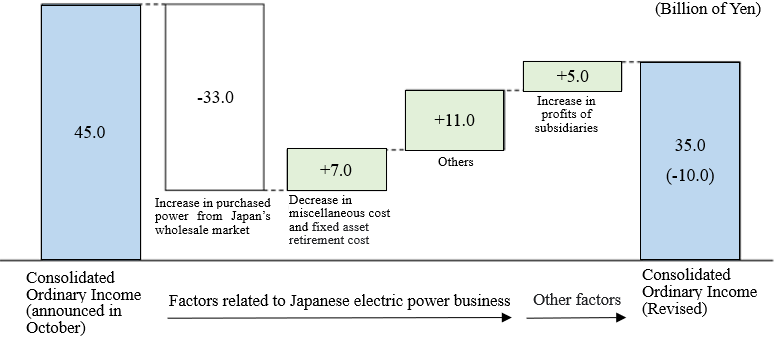 (Consolidated)
(Billion of Yen)
Revised
Previously announced
(in October)
Difference
Rate of change
(%)
Sales
2,130.0
2,060.0
70.0
3.4
Operating Income
60.0
70.0
-10.0
-14.3
Ordinary Income
35.0
45.0
-10.0
-22.2
Net Income attributable to owners of the parent
22.0
30.0
-8.0
-26.7
(Reference: Key Factor)
Revised
Previously announced
(in October)
Difference
Retail electricity sales volume
75.3 billion kWh*
75.1 billion kWh
0.2 billion kWh
Wholesale electricity sales volume
10.0 billion kWh
10.3 billion kWh
-0.3 billion kWh
Total electricity Sales Volume
85.3 billion kWh
85.4 billion kWh
-0.1 billion kWh
Crude Oil CIF Price
42 $/b
42 $/b
-
Exchange Rate
106 ¥/$
106 ¥/$
-
Nuclear Power [Transmission-end]
(Capacity factor of nuclear power plants)
21.6 billion kWh
21.7 billion kWh
-0.1 billion kWh
(62.1%)
(62.4%)
(-0.3%)
Note: Electricity sales volume represents our company and consolidated subsidiaries (Kyushu Electric Power Transmission and Distribution Company Inc. and Kyuden Mirai Energy Company Inc.) (internal transactions have been eliminated).
* Impact of the corona virus -2.0 billion kWh (no change to the previous estimate)